LAX is one of the busiest airports in the world. On average 200,000 passengers pass through each day. It is a gateway to the vibrant city of Los Angeles.
Many travelers only pass through LAX while en route to another destination. But if you have some extra time, take the chance to discover fun things to do near LAX airport layover.
LAX has a variety of activities to offer. You can enjoy stunning beaches, historical landmarks, visit renowned shopping destinations or tour the city. Make your stay near LAX an unforgettable experience. In this article, we'll guide you through a selection of exciting things to do near LAX.
Discover the Spectacular Beaches:

Things to do near LAX are a short distance away from the airport where you'll find some of California's most iconic beaches.
Including Venice Beach in your itinerary is a must. It is a popular destination with a lively boardwalk, street performers, and colorful murals, making it a vibrant place to visit.
Don't forget to take a walk along the Venice Canals, which are just a few blocks from the beach. These canals are a picturesque and serene spot to take a break from the hustle and bustle of LA. Don't forget to stop by the famous Muscle Beach and see the outdoor gym where Arnold Schwarzenegger used to train.
Santa Monica Beach is a must-see destination. It has a beautiful sandy shore and the historic Santa Monica Pier. Plus, the sunset views from this beach are stunning. Whether you're into sunbathing, surfing, or simply strolling along the shoreline, these beaches provide the perfect escape from the airport hustle.
There are several other beaches you can visit near LAX, each with its own charm and beauty. Here are three more beaches you should consider visiting: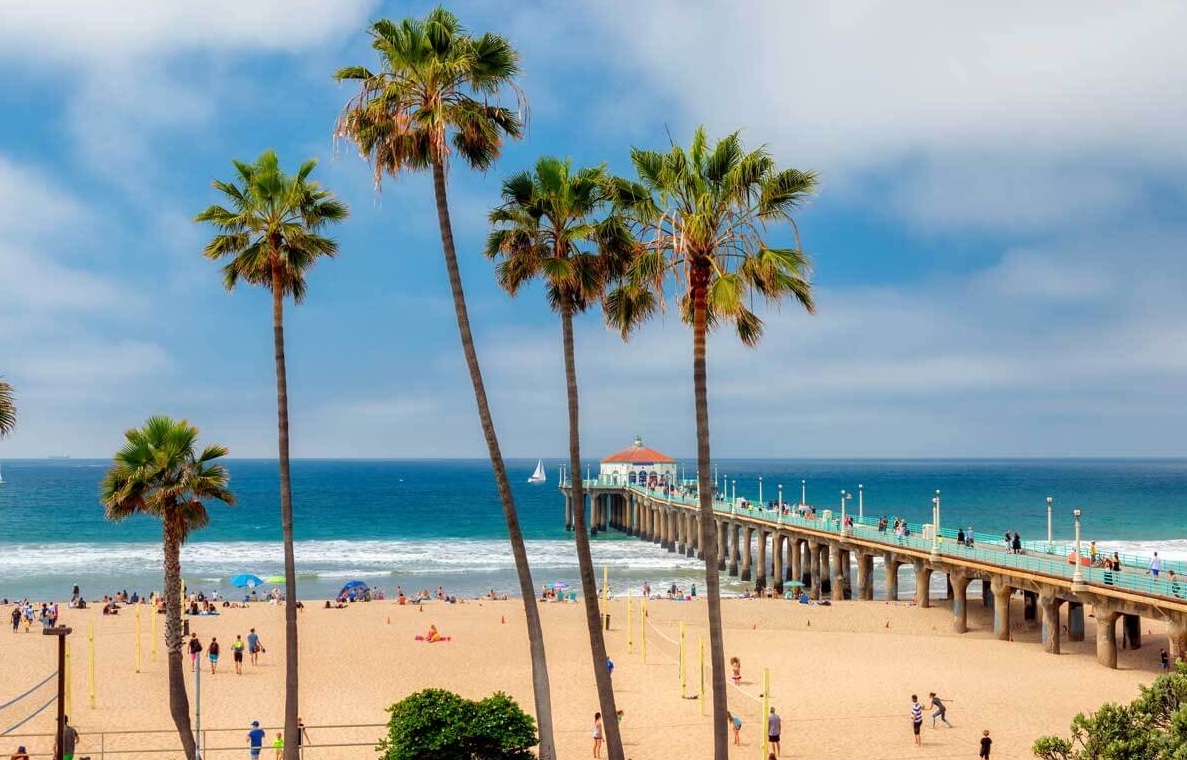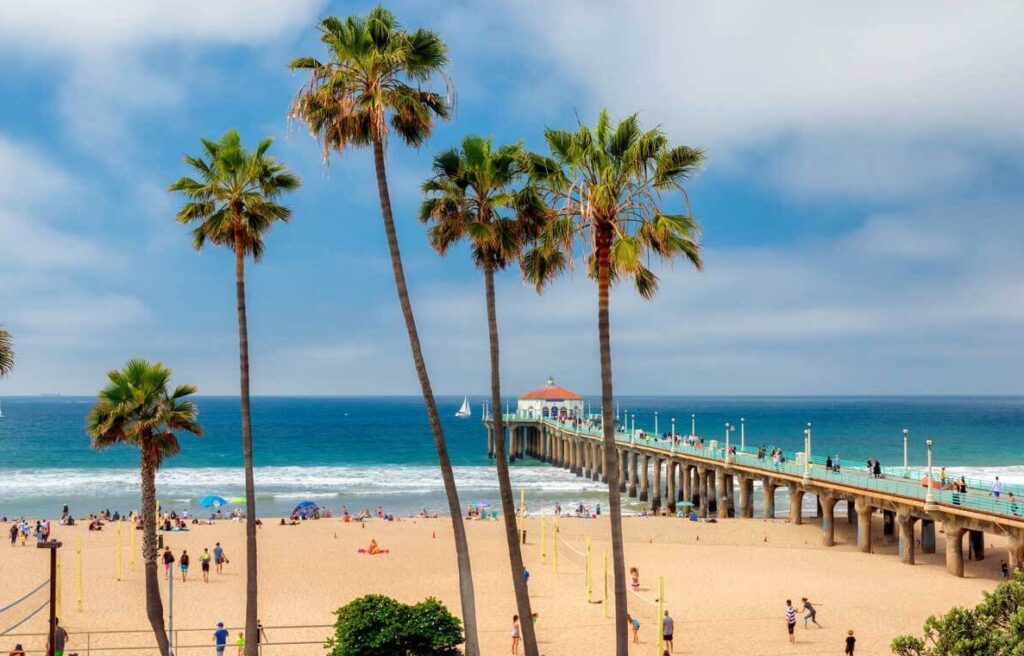 Manhattan Beach is located only 15 minutes away from LAX. It is the perfect destination for anyone looking for a tranquil beach experience, beautiful sunsets or excellent surf conditions. Alternatively, you can bike along the Marvin Braude Bike Trail. This trail extends from Pacific Palisades all the way to Torrance.
Hermosa Beach: Hermosa Beach is another excellent option for those looking for a relaxing beach experience. The beach is known for its wide, sandy shore and excellent surf conditions. You can also enjoy beach volleyball or take a bike ride along The Strand, which offers stunning ocean views. Hermosa Beach is just a 20-minute drive from LAX.
Dockweiler State Beach: Dockweiler State Beach is a popular spot for families and groups of friends. The beach offers a wide range of activities, including swimming, surfing, fishing, and beach volleyball. You can also take a walk along the bike path or enjoy a picnic in the day-use area. Dockweiler State Beach is just a 10-minute drive from LAX.
Immerse Yourself in the Glamour of Hollywood:
While in Los Angeles, it's hard to resist the allure of Hollywood. Drive from LAX to the Hollywood Walk of Fame. Stroll along the stars embedded in the sidewalk. These stars honor Hollywood legends.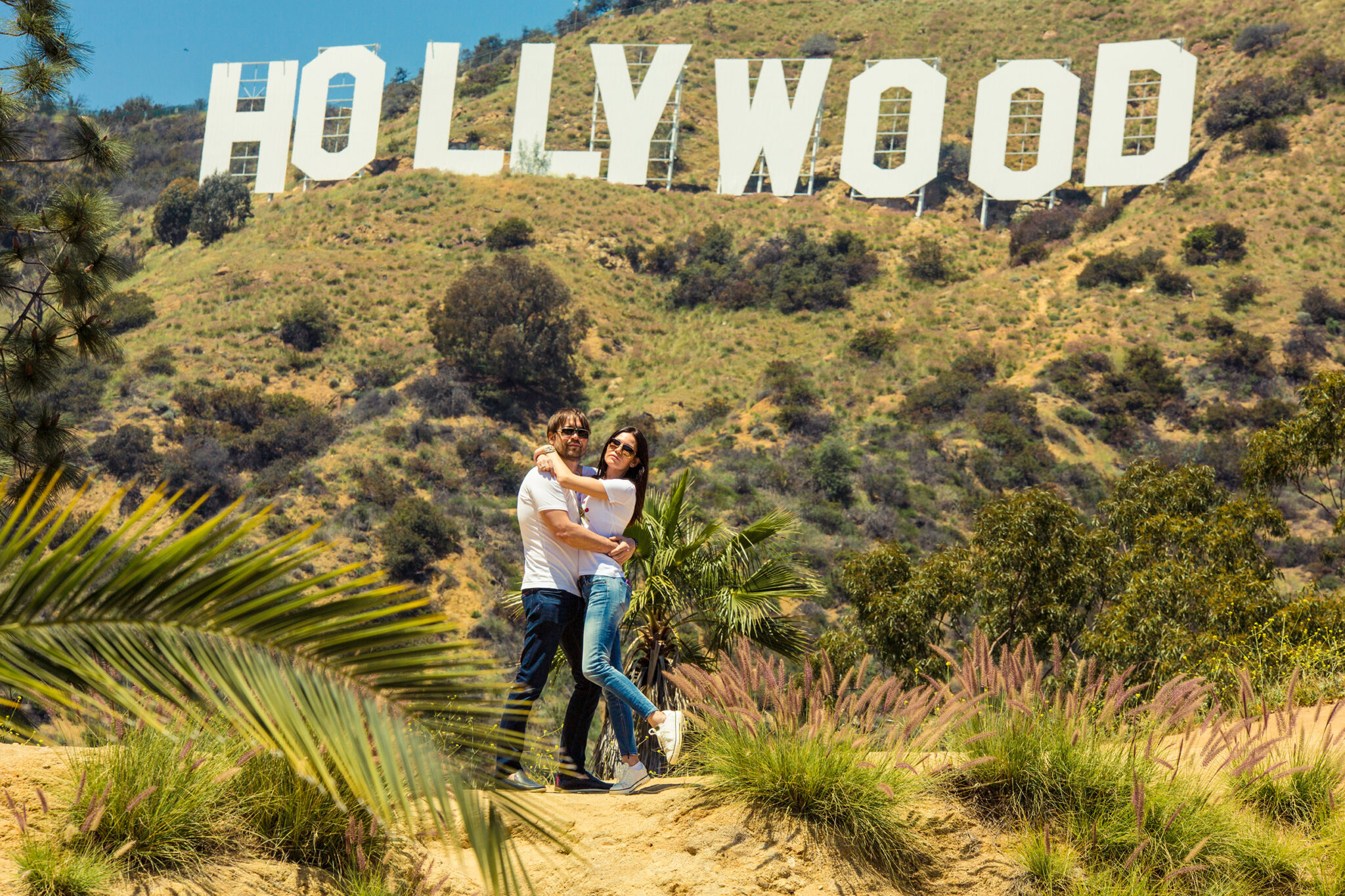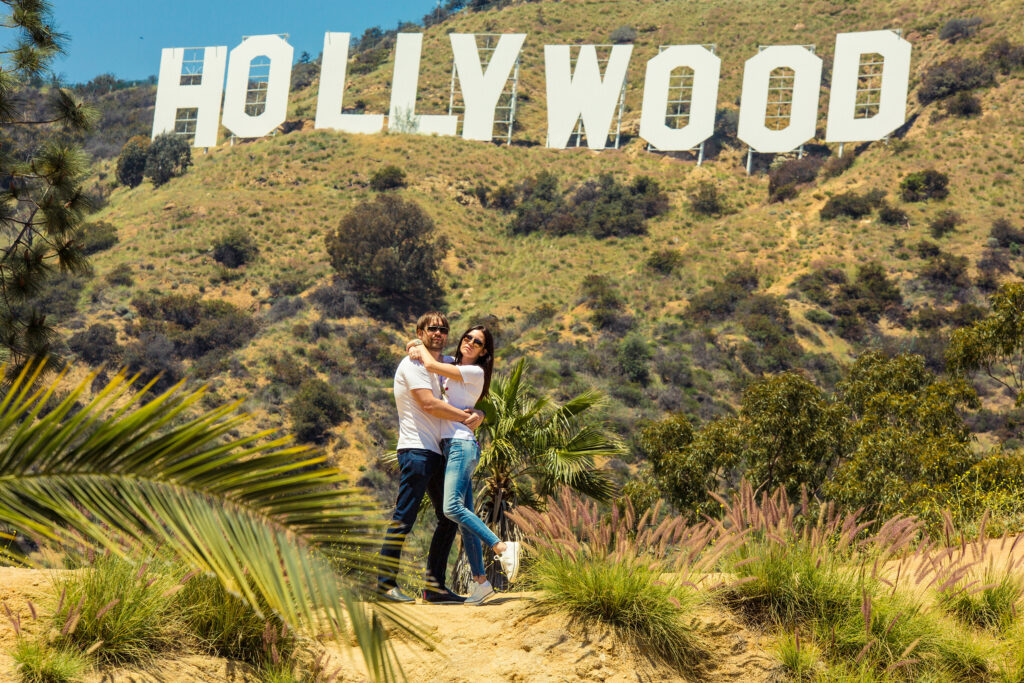 Don't miss the opportunity to visit the iconic TCL Chinese Theatre, known for its handprints and footprints of beloved celebrities. Additionally, you can explore the Hollywood Museum to delve into the history of the entertainment industry.
Universal Studios Hollywood: This theme park is a popular tourist attraction that offers a behind-the-scenes look at movie making. You can take studio tours, enjoy thrilling rides, and watch live shows.
Hollywood Bowl: The Hollywood Bowl is an iconic outdoor amphitheater that hosts concerts and events throughout the year. It is the largest natural outdoor amphitheater in the United States and offers stunning views of the Hollywood Hills.
Griffith Observatory is located in Griffith Park and offers breathtaking views of Los Angeles. You can view space exhibits, watch shows, and even see the stars through telescopes.
Runyon Canyon Park: This park offers stunning views of the city and is a popular spot for hiking and outdoor recreation. It features several trails of varying difficulty levels and is a great place to escape the hustle and bustle of Hollywood.
Hollywood and Highland Center: This shopping and entertainment complex is located in the heart of Hollywood. This area features several shops, restaurants, and tourist attractions. Among them is the Dolby Theatre, the home of the Academy Awards. The TCL Chinese Theatre is also a popular attraction.
The Hollywood Sign is one of LA's most iconic landmarks. It is a must-visit attraction while in Los Angeles. The easiest way to get there is to drive. Alternatively, you can hike up to the sign.
Book one of our private tours of Los Angeles in a convertible classic car, or a luxury SUV.
Shop 'til You Drop: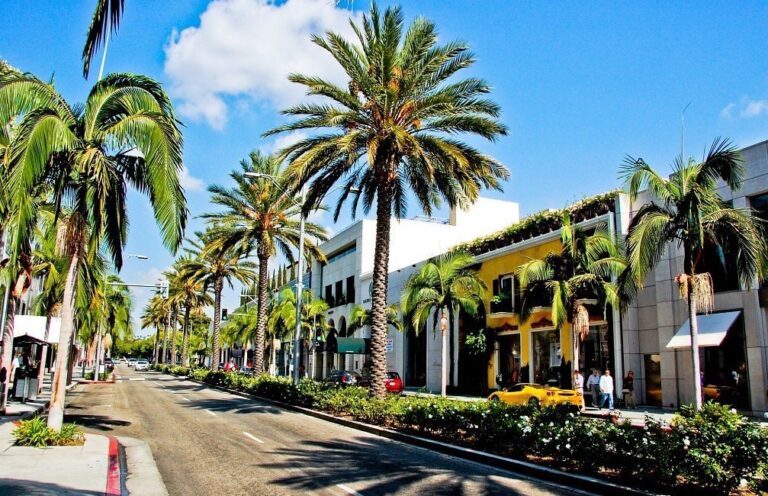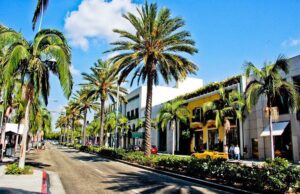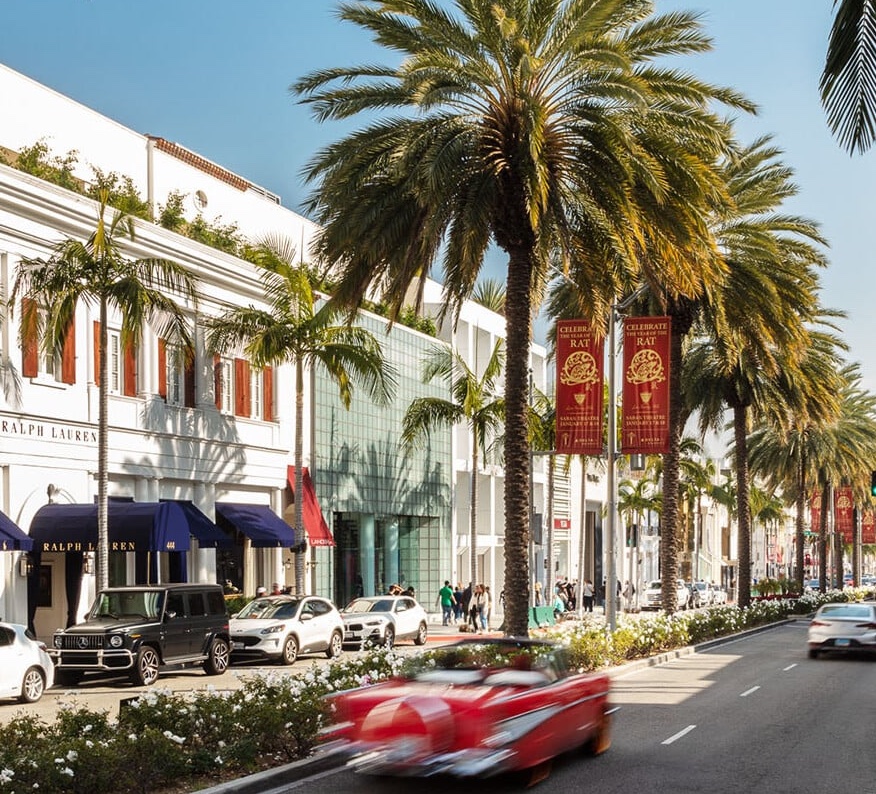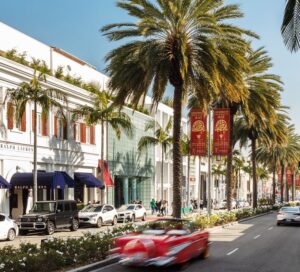 Los Angeles is a paradise for shopaholics, and near LAX, you'll find fantastic shopping destinations. The Grove, a premier outdoor shopping mall, offers a blend of high-end boutiques, renowned brands, and delightful dining options.
For luxury shopping, head to Rodeo Drive in Beverly Hills. There, you can browse exclusive designer stores. Enjoy the glamour of the neighborhood. These retail havens will offer an abundance of options for those who enjoy retail therapy.
Melrose Avenue and Melrose Place are two famous shopping destinations in Los Angeles. Melrose Avenue is known for its trendy boutiques, vintage stores, and unique fashion finds. The street is a great spot for people-watching and exploring the local fashion scene.
Melrose Place, located just off Melrose Avenue, is a more upscale shopping destination. It features high-end designer stores and luxury brands. Both areas are within a reasonable driving distance from LAX and offer a fantastic shopping experience. Don't forget to explore the nearby cafes and restaurants as well!
The Westfield Century City mall is a premier shopping destination located near LAX. It features over 200 stores, including high-end designer brands, trendy boutiques, and popular department stores. The mall provides many dining and entertainment possibilities. Additionally, the mall features a variety of events throughout the year, including fashion shows, live music, and art exhibitions.
On the other hand, the Village in Pacific Palisades is a charming outdoor shopping destination. It offers a blend of high-end shops, trendy boutiques, and delightful dining options. The Village is located in a beautiful neighborhood, making it a lovely place to walk around and take in the scenery. The area also features several parks and outdoor spaces, providing an excellent opportunity to relax and enjoy nature.
Explore Culinary Delights are another thing to do near LAX airport:
Los Angeles boasts a diverse culinary scene, and near LAX, you'll find a variety of dining options to suit every palate. The trendy neighborhood of Abbot Kinney Boulevard offers a variety of flavors. You can find these flavors in the many hip restaurants and cafes in the area.
Are you a fan of Mexican cuisine? Head to the nearby neighborhoods of Venice or Playa del Rey. Indulge in delicious tacos, burritos, and margaritas!
Unwind in Nature:
If you prefer a tranquil escape, immerse yourself in nature near LAX. Visit the Kenneth Hahn State Recreation Area, a serene park. It covers a vast area, with scenic trails and picnic areas. Plus, you can enjoy stunning views of the city.
Dockweiler State Beach is another fantastic spot, perfect for a peaceful beach day or an evening bonfire. Enjoy the ocean breeze and take in the picturesque coastal scenery.
Here are some things to do near LAX walking distance:
It is important to note that Los Angeles is a large city. Its public transportation is not as advanced as other major cities. If you want to explore more, consider other forms of transportation. You could rent a car, use a ride-sharing service, or take public transportation like buses or the Metro rail system.
Westchester Golf Course is just a 30-minute walk from LAX. You can visit the course for a round of golf or to simply take in its beautiful scenery.
The LAX Theme Building is an iconic space-aged structure that looks like a flying saucer. It features an observation deck, which is open on weekends. It's located at the center of the airport, so it's a very short walk.
The Flight Path Learning Center & Museum is located about 20 minutes away from LAX. It is an aviation museum that provides information and exhibits about the history of flight, airlines, and LAX. They also have a great collection of model planes. It can be one of the things to do with kids near LAX.
In-N-Out Burger on Sepulveda is a famous fast-food joint. It is located just to the east of LAX. You can grab a quick bite there. It's also a fantastic spot for plane-spotting due to its proximity to the airport.
Playa Vista Dog Park: If you are traveling with a pet, this is a great place to let them loose. It's about a 40-minute walk from the airport.
Parks near LAX: – LAX Dunes – Carl Nielsen Youth Park – Westchester Recreation Center These parks are within walking distance. These parks are good spots to relax and enjoy some nature.
Visit the Westchester Farmers' Market on Wednesdays. Enjoy a vibrant atmosphere as you stroll through the market. It's around a 30-minute walk from LAX.
Shopping: The Westchester area is home to several shopping options. The nearby Westchester Town Center is an outdoor shopping mall that you can walk to in about 30 minutes. It features a variety of stores and restaurants.
Otis College of Art and Design Gallery is a great spot for art lovers. It is a 40-minute walk from LAX. This gallery usually showcases contemporary art from local artists.
Remember, LA is a big city with significant traffic, so factor that into your planning. Remember to plan ahead when booking flights. Allow two hours before an international flight and 90 minutes before a domestic flight for security procedures.
Keep an eye on your belongings. Make sure to have a secure place to store your luggage. Explore with peace of mind.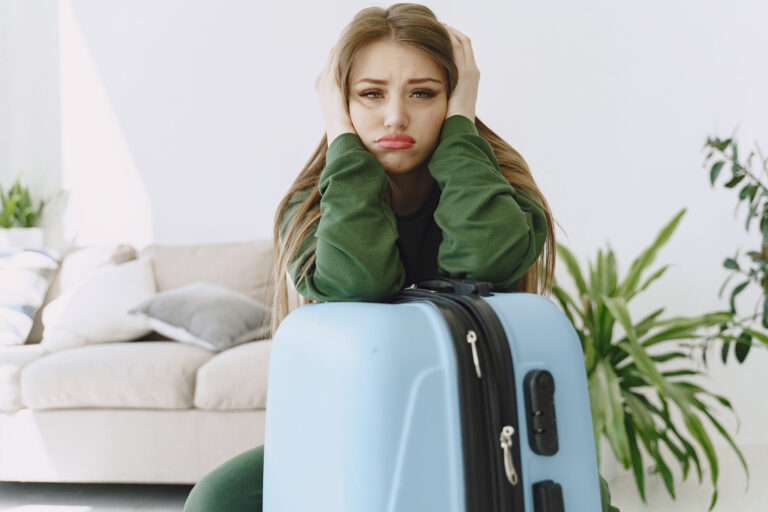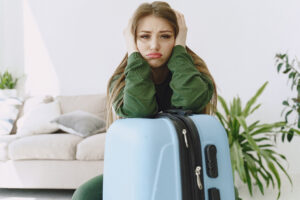 Los Angeles International Airport (LAX) offers multiple options for luggage storage to accommodate the diverse needs of its millions of visitors. Good to know that LAX does not provide luggage storage inside the airport due to security reasons. However, numerous off-site services are available, located just a few minutes away from the airport. These services, such as LAX Luggage Storage and Stasher, offer secure storage for different types of baggage for varying durations. It's essential to contact these providers directly or visit their websites for the most current information, pricing, and procedures. After all, you can also utilize luggage delivery services to have your bags transported from the airport to your local destination if preferred.