About Us
Moments of Magic
Private Tours of Los Angeles.
At Classic Experiences, we arrange high-quality, escorted private tours of Los Angeles in classic cars and luxury SUVs. Most importantly, we make our clients dreams a reality by orchestrating everything from a big picture to the details. We function as a combination of travel creator-guide-tastemaker, providing ideas, inspirations, arrangements, and local insider tips. Those who have experienced our private tours of LA transformed from simple tourists to co-authors and explorers. During our tours, we inspire travelers and change their perception of the world.
At Classic Experiences, we also provide luxury concierge services and travel planning in Los Angeles and Southern California. In other words, we collaborate with our clients in submitting ideas and insider tips so they can do everything they want out of their Los Angeles tour and more. At Classic Experiences, we implement an innovative approach in incorporating emotion and wonder into a travel experience. We are not regular travel experts; we are a new generation of travel designers.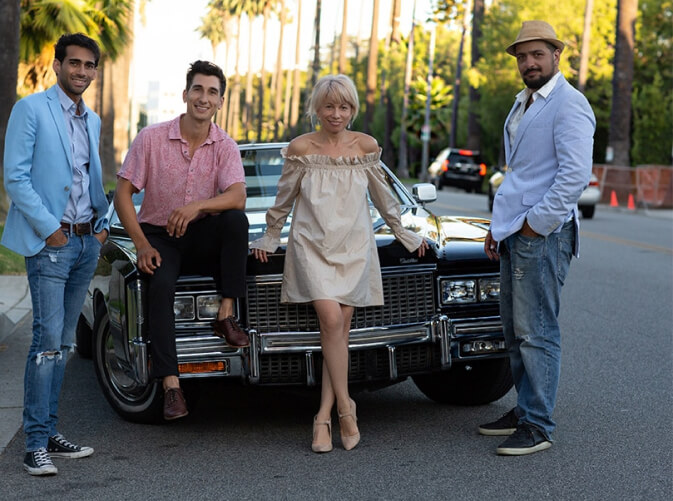 Testimonials
What Our Clients Say | Honest Feedback.
5-star rating on Tripadvisor, Yelp and Google about our Los Aangeles private tours
Stan was absolutely amazing! The Classic Car Tour was by far the best thing we did on our trip. Stan was punctual, knowledgeable, and so much fun! We literally saw... read more everything we wanted to see throughout our entire vacation in just this one trip - YES he is THAT good! Two very enthusiastic thumbs up and five stars!

Meagan J


March 26, 2022

Wow, this is the proper LA Experience! We got so lucky to have Cameron as our trusty know all guide and driver. He picked us up in a classic Cadillac... read more Convertible and immediately made us feel comfortable. We wanted to feel the old glamour of LA and Cameron put us right in the middle of it. He was a very funny personable guy and had the most amazing inside stories including personally knowing Oscar winners.
we all just felt like close friends at the end of it. If you want to experience Hollywood the way it was meant to be do this tour! And ask for Cam! You will have the time of your life.

Lisa S


March 11, 2022

We very much enjoyed the tour of Beverly Hills, Bel Air and Hollywood with our knowledgeable guide Alex. He's a safe driver and has something to say about almost every... read more boulevard we drive along, every landmark building, knows about the properties of old and new stars, about the cinemas, music clubs and restaurants. We stopped for a photo shoot at the Hollywood sign, had time for a little break at the Beachwood Café - all very relaxed. Good thing he had a warm blanket for the passengers in the backseat, as our February Tuesday tour was blessed with great, but chilly weather. More than once, we were photographed by others - probably because of the well-kept blue 1970 Cadillac De Ville Convertible.

Ivo B


February 23, 2022
Private tours of Los Angeles in a new unique way.
At Classic Experiences, we focus on private tours in Los Angeles and Southern California that fully satisfy the emotional needs of the heart rather than the intellectual needs of the brain. That is to say, it's no longer enough to purchase products and services as we move along in our day to day life. On the other hand, we want a story to go along with what we buy as well. It is no longer enough to see the world for what it appears to be. We want to be able to touch, taste, and experience the world for what it is by interacting and communicating with individuals in a new light. Therefore, we put together the client's imagination, dreams, and expectations into one experience. With the use of social media, travelers often idealize and fantasize about landmarks, towns, cities, and places to visit. At Classic Experiences, we cater to these idealizations, offering a different caliber of private tours of Los Angeles that is on a whole other level. Our clients are not merely consumers or tourists; they are co-authors of the services we offer now as well as the services we will offer down the line.
Fun and exciting private tours of LA.
At Classic Experiences, you will immediately understand that we do not offer any ordinary private tours of Los Angeles but rather unique and sophisticated experiences. For example, by handcrafted storytelling, we allow you to experience LA as a native. The stories that we tell are not a list of must-dos, highlights, or fun facts about each location. These stories provoke emotion and feeling within each traveler to assist them in connecting with the people and places that Los Angeles has to offer.
We are captivated by the storytelling, not only because we are rational human beings, but also because emotions drive us. Our highly-trained Los Angeles tour guides utilize storytelling to help our clients connect the observational reality of their own emotional life experiences. Our guides are incredibly observant of how people respond emotionally to their surroundings and others around them. The use of storytelling within the tour serves the same purpose as the use of storytelling in a book or a movie; it allows you to find meaning in your own life. During the tour, you will be just as captivated with our tour guides as you would be by watching an exciting movie or reading your favorite book.