Our top choices for the best restaurants in Los Angeles. Most Angelinos are obsessed with the questions of what's new and what's hot. Especially when it comes to restaurants and food.
The dining scene in Los Angeles is one of the best in the world. It boasts a diverse blend of internationally inspired cuisines. As a result, L.A. is rightly known as a culinary mecca. So please don't listen to your travel agent, they don't know the current trends. It's not easy to keep up with what's new and hot in fast-paced LA. However, we can give you local insider knowledge of the city's vibrant food scene. In other words, we can show you the freshest, most inventive and most memorable spots right now. If you are visiting L.A. and want to know the best places to eat in Los Angeles, read on.
Viale del Romani
West Hollywood
One of the top Italian restaurant openings this year was Viale del Romani. Located in the Design District, and extremely stylish and classy inside, you will feel like a VIP during your visit here. This restaurant is a great addition to the collection of nearby crowded celeb hotspots like Craig's, Catch, and Gracias Madre. The star of Viale del Romani is the custom-built wood-burning grill. Also, be sure to sample their fresh handmade pasta. Make a visit and see for yourself why it has made our best restaurants in Los Angeles list.

The NoMad
DTLA
It's hard to imagine dining in a more luxurious setting than The NoMad. The Italian architecture building one time was a former Bank. And now, this is one of the city's most stylish and dramatic dinner destinations. Michelin-starred chef Daniel Humm performs classic French technique with modern influences. For example, the famous whole-roasted chicken with foie gras and black truffle. We are certainly huge fans of this signature dish!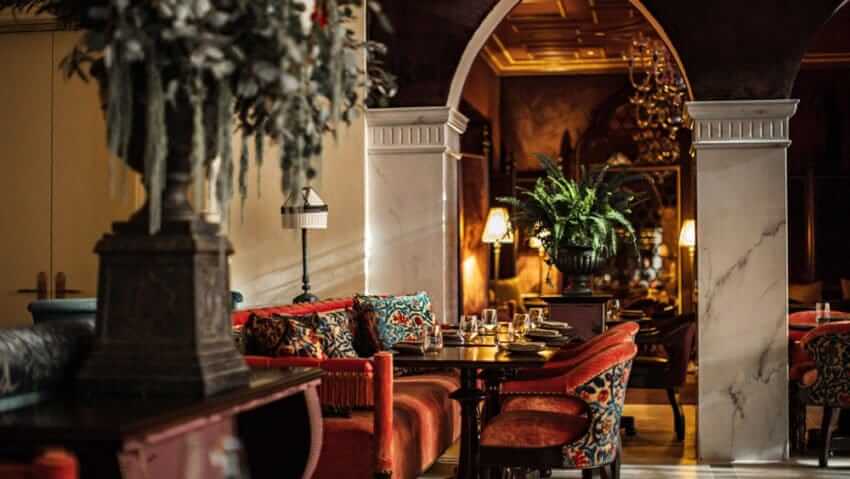 Bavel
DTLA
Morocco, Turkey, Israel, and Egypt are blended with contemporary and industrial accents in Bavel. As a result, the design of the interior allows the different styles to merge in an elegant way. And, the restaurant is located in a former warehouse. Consequently, the original industrial elements appear throughout the space. Bavel has a Middle Eastern pumped-up version of the classic menu. And so, almost everything comes with some sort of pita or flatbread to get food to your mouth, and all of them are fantastic.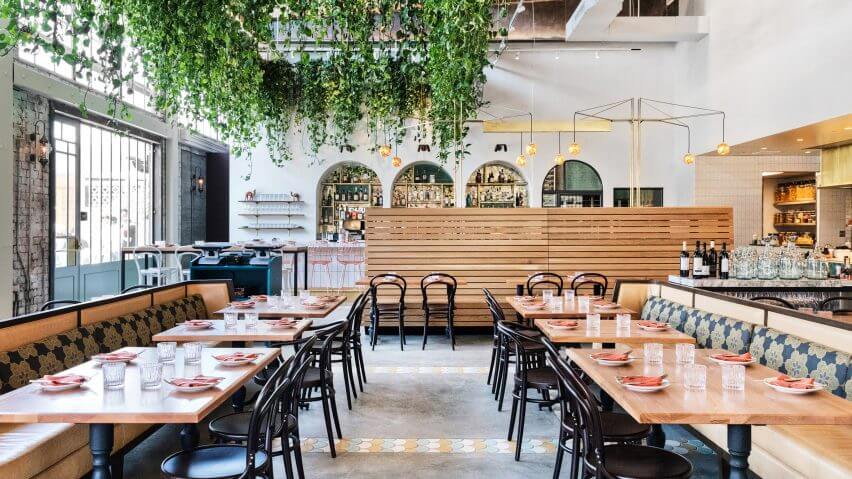 Tesse Restaurant
West Hollywood
Tesse Restaurant is located in sleek and modern space at Sunset Strip. We are sure that you have dined in many Michelin starred places in Europe. If so, you might have believed that US restaurants have a way to go to meet European guidelines. However, the food at Tesse is true French/Belgian authentic cuisine at its finest. Therefore, the desserts are truly spectacular and the star of the show. Do not miss those when you visit Tesse. Additionally, they stock a fabulous selection of wines that won't break the bank. That's a great reason to go back for more.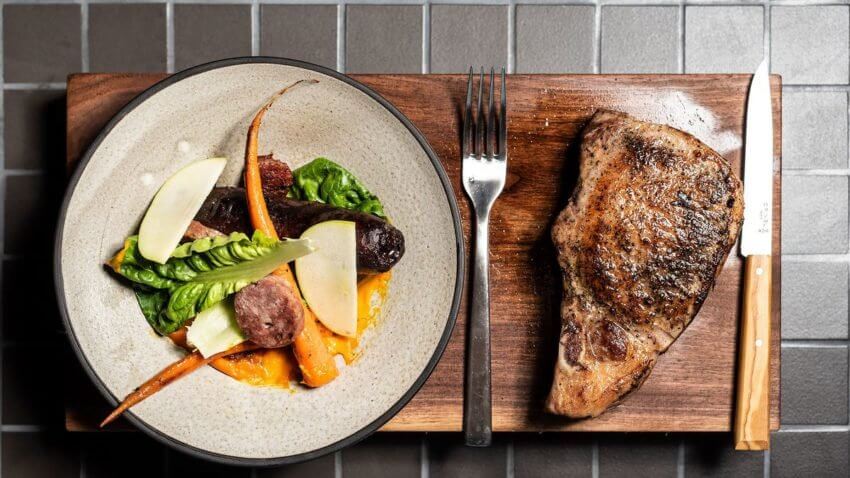 Avra Beverly Hills Estiatorio
Beverly Hills
Avra is a Greek seafood restaurant in Beverly Hills. It is definitely one of the new best restaurants in Los Angeles. Avra is bright, beautiful, with ficus trees, large tables, and seafood that's just arrived from European waters. Avra Beverly Hills Estiatorio is a good choice for the see-and-be-seen crowd and easy-drinking cocktails. First, you do Santorini Martinis and a few Greek dips like melitzano salata or htipiti. After that, you'll watch as that chilled seafood meets its fate on the charcoal grill.
More ideas for the best restaurants in Los Angeles that we love visiting
Beverly Hills, West Hollywood and Hollywood:
Providence, Hollywood. Boasts 2 Michelin stars, exceptional seafood, and tasting menus.
Mastro's, Beverly Hills. A renowned steakhouse.
Cecconi's, West Hollywood. Modern Italian, one of our favorites.
Catch, West Hollywood. Trendy seafood joint with Asian influences.
Downtown LA:
Red Bird. Modern Californian cuisine and stunning architecture.
71 Above. Contemporary American fayre at 1000 ft and 360-degree views.
Badmaash. Badass modern Indian food at this family-run gastropub.
Santa Monica, Venice, and Malibu:
Herringbone, Santa Monica. Seafood restaurant with a California beach vibe.
Gelina, Venice. On trendy Abbot Kinney street, well known among celebrities and Netflix movies.
Salt & Straw, Venice Beach. Ice cream place voted to be the best in LA, kids will love it.
Gjusta, Venice. Breakfast, lunch, deli, bakery and market, the same chef as Gelina.
Malibu cafe. In the heart of Malibu, with a playground for kids.
Malibu pier restaurant. Breakfast, lunch & sunset dinners on the pier.
Nobu Malibu. Famous Japanese chain, great for celeb-spotting.
Water Grill, Santa Monica. Long-established upscale seafood eatery.
These are a few museums and other places we enjoy visiting:
Getty Center and Getty Villa
Petersen Automotive Museum. If you like cars 🙂
The Broad museum in DTLA
Abbot Kinney – a cute street in Venice
Venice Canals
Muscle Beach
Adamson house if you are in Malibu during the day
Self-realization Fellowship in Santa Monica, just another beautiful place
The Grove – open-air shopping mall near West Hollywood
Westfield – fully renovated the brand new shopping mall near Beverly Hills
Melrose flew market every Sunday from 10:00 am – 5:00 pm